NardoTrio – World Music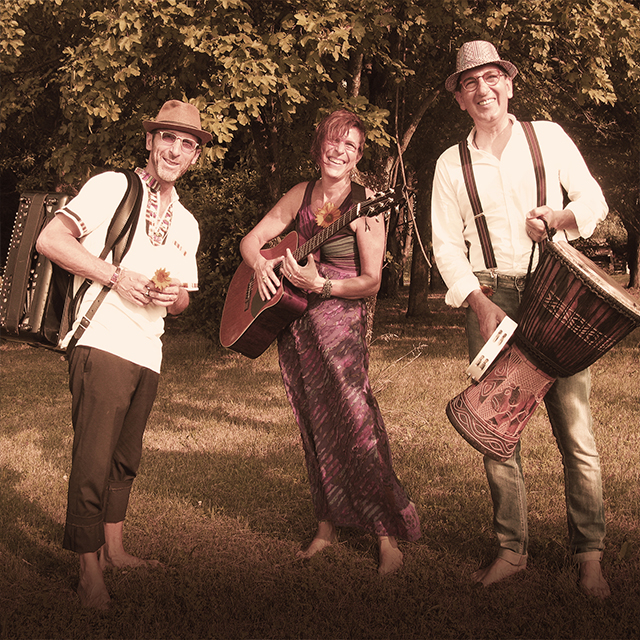 Follow


NardoTrio began artistically in May 2012 as a musical component of the Veronese storytelling group Il Nardo.
Il nardo ('Spikenard' in English) is an oriental balsamic oil with a very intense perfume that the Trio, composed of Dario Righetti, Cristina Ribul Moro and Roberto Baba Alberti, decided to keep as a name to identify their independent musical career that started in those years. The musicians' feeling for the discovery and adaptation of popular world music became the basis for a mutual musical understanding and friendship that consolidated the group in the search for its own original interpretation of multi-ethnic sounds.
The first significant debut of the Trio took place two years later on April 25, 2014 in the Arena di Verona, at the event Arena di pace e disarmo ('Arena of peace and disarmament').  The Nardo Trio extended a welcome to the 13,000 participants with Jewish, Balkan and South American music. Two days later they recorded their first CD: 'Sani', which is the salutation "stammi bene" ("take care") in the dialect of Comelico Superiore, Cristina's home town. The recording was live and entirely acoustic.
Over the next two years, the NardoTrio strengthened its bond and concentrated on musical research drawing on the popular Balkan-Jewish tradition, from which the group found the greatest artistic inspiration. The second work Piedi nudi (Bare Feet) was released in May 2016., Showcasing the maturity they found in the recording studio, this is undoubtedly the Trio's calling card and was immediately appreciated by music critics.
And it is during the days of the Covid-19 pandemic that the NardoTrio announce the release of their CD Piedi nudi with new graphic design and a new title: Klezmer and Balcan Folk Music.
All of this is thanks to the record label Maxy Sound of Verona that wanted to share in this new project, aimed at encouraging the promotion of musical culture. All in anticipation of seeing the NardoTrio return to the recording studio to create a new recording project that it is developing, in order to share it with their followers as soon as possible.
The NardoTrio lineup:
Dario Righetti – Accordion and voice.
Artistic director of the Trio. As a Maestro of singing, he knows how to place the words on the breath so that they emerge full of emotion. His creativity is the result of continuous research into sounds, words, melody and spirituality in music. Righetti's singing is rooted in the traditional spirit of his father's songs. For more than thirty years a singer in the Arena di Verona Chorus, he has been part of various musical adventures ranging from folk music to songwriting, from the world of Piazzolla's tango to Jewish folk music, liturgical and other traditions. An accordionist of ancient times, he can nimbly move through different types of music. His musical sensitivity and his vocal expertise allow him to introduce improvisational musical games that underline his versatility and freedom of expression.
Cristina Ribul Moro – Guitar, ukulele, bouzouki and voice.
Her voice is a voice imbued with emotion, full of vitality, shaped by the pathos of different lyrics and languages. She is conscious of song as a mirror of the soul, and has always been particularly attentive to the ethnic research into music and song, welcoming its convivial principle as a way of being and living in the world. Her use of stringed instruments completes the musical composition of the group.
Roberto Baba Alberti – Ethnic percussion and drums.
Baba, his stage name and for his friends, was born a percussionist. You could say that it is innate in him to accentuate life with rhythm. A light and elegant hand allows him to express his musical sensitivity and his spiritual search in sound. Music is also a privileged language for Baba to express his cultural awareness and social engagement: the sound of his percussion instruments is never out of sync with the beat of his heart.
---