Original Perdido Jazz Band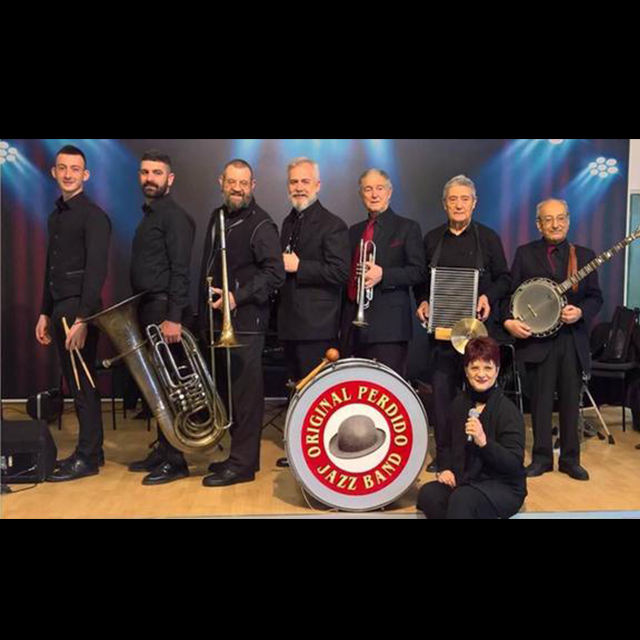 Follow


La Original Perdido Jazz Band pubblica i suoi album in digitale. Da oggi disponibili anche gratis su Spotify.
Le loro interpretazioni di early jazz vi faranno sentire immersi nelle strade giubilanti di New Orleans.
Verso la fine del 900 i scintillanti bagliori degli strumenti a fiato europei incontrarono il legno roboante dei tamburi africani. La città, claustrofobiche ragnatele di strade lastricate furono il luogo di nascita della musica americana.
Questa musica ha acceso la voglia di vivere e fatto danzare intere generazioni. New Orleans è sempre stata la capitale del dixieland e nessuno lo sa suonare come loro. La Original Perdido Jazz Band però nutre una passione e una maestria che l'ha portata negli anni a guadagnarsi un grande successo da parte degli appassionati del genere. Ora i suoi 4 album registrati nel tempo sono finalmente disponibili nel formato digitale.
Perdido Street è una delle strade più popolari di New Orleans e i membri della band, nonostante italiani, per come suonano questo genere sembrano nati nel quartiere di Storyville City.
Il repertorio si basa su musiche pervenute dalla prima discografia del periodo post-bellico e degli anni '50, particolarmente quella di Louis Armstrong Hot Five – Hot Seven, suonate nello stile "New Orleans", ossia in un modo istintivo, aggressivo, vibrante, capace di ricreare le piacevoli, calde, sensuali atmosfere del primo jazz dei negri d'America.
La formazione è impegnata nella divulgazione del jazz tradizionale e, in oltre cinquant'anni di attività , ha tenuto più di mille concerti offrendo un valido progetto educativo per le scuole, di natura informativa di avviamento alla migliore comprensione della musica jazz, intitolato "il jazz e le sue origini: c'era una volta New Orleans".
La Original Perdido Jazz Band si esibisce nella formazione tipica del dixieland (tromba, clarinetto/sax e trombone sostenuti da una ritmica costituita da banjo, contrabbasso, batteria e piano), privo di arrangiamenti d'effetto, ma con una certa inclinazione all'improvvisazione, singola e collettiva, producendo così il "sound" che la caratterizza.
Il Jazz non nacque in un preciso momento, né fu una singola persona o razza che lo creò. L'essenza delle emozioni di molta gente proveniente da parti del mondo diverse ed un favorevole crogiolo culturale furono i responsabili della nascita di qualcosa di così unico e speciale. A New Orleans questo miscuglio, così come uno dei principali piatti della tradizione, lo chiamano "Gumbo".
Gli album della Original Perdido Jazz Band sono disponibili su i-Tunes, Amazon, Spotify e tutti i principali store digitali:
"Original Perdido Jazz Band" includes: Louisiana, Sheik of Araby, Royal Garden Blues, My Monday Date, Basin Street Blues, Nobody Sweetheart, Tin Roof Blues, Big Butter and Egg Man, At the Jazz Band Ball, I Can't give you anything but love, St. James Infirmary.
"Happy Birthday Satchmo" includes: Way down yonder in New Orleans, Do you know what it means to miss New Orleans, Roseta, Muskrat Ramble, Beale Street Blues, Angry, Satanic Blues, Singing the Blues, Indiana, When the saints go marching in, Happy Birthday.
"Once Upon a Time New Orleans" includes: I Ain't gonna give nobody none of my Jelly Rock, Melancholy Blues, Solitude, Clarinet Marmelade, Apex Blues, All of me, Black and Blue, Hello Dolly, Savoy Blues, Just a Closer Walk With Thee, Georgia On My Mind, Washington and lee swing.
"Louisiana: Jazz, Voodoo, Alligators" includes: Some of these Days, Rose Room, I'm Confessing That I Love You, Who's Sorry Now, Jazz Holiday, After You've Gone, Baby Won't You Please Come Home, Caresless Love, I Can't Give Anything But Love, New Orleans Function, Strutting With Some Barbeque, Sugar, Tiger Rag, West End Blues, I Cried For You
---